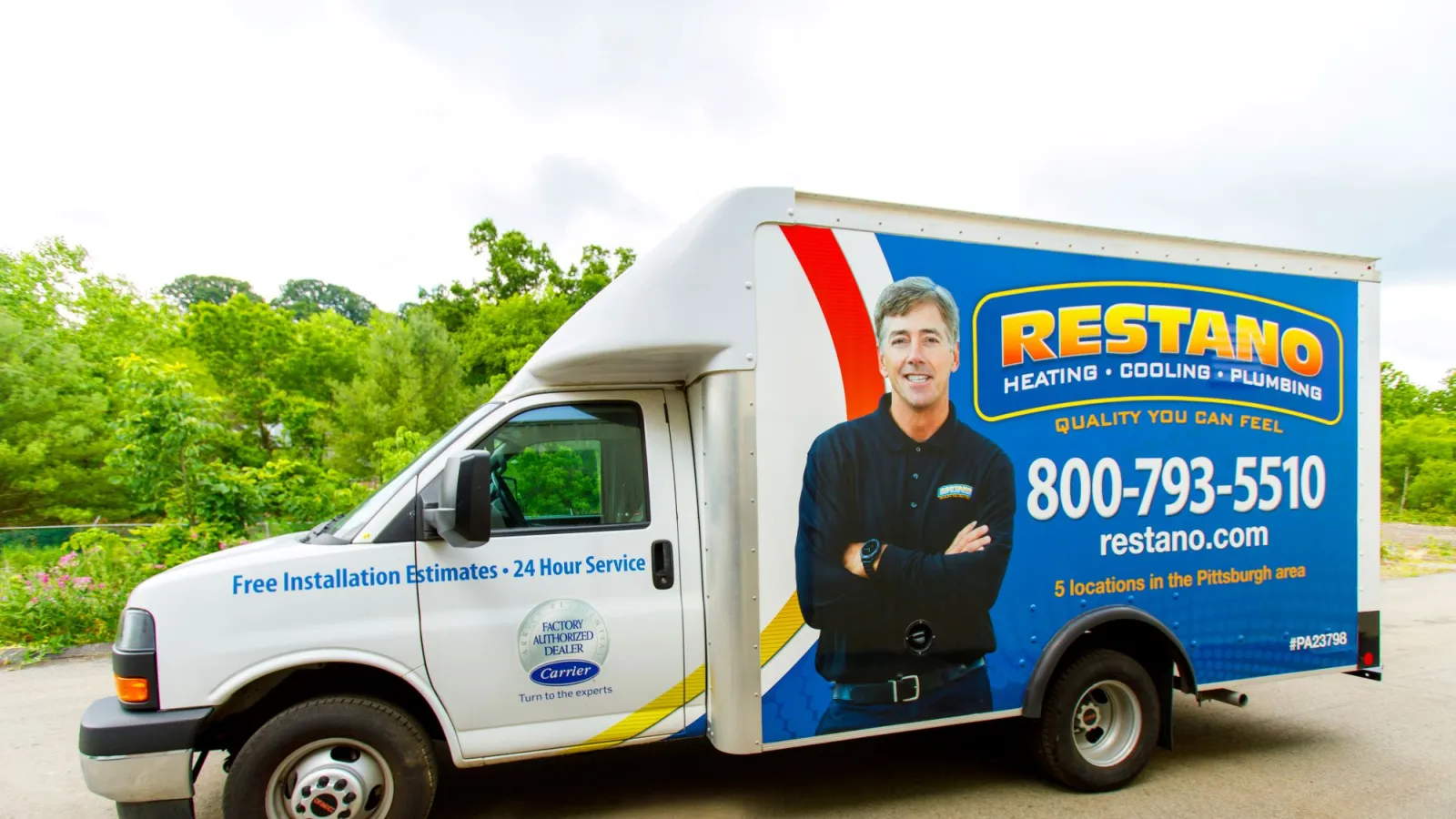 Water Heaters
Serving Allegheny & Westmoreland Counties
Water Heater Repair in Pittsburgh
Are you a homeowner in Pittsburgh, PA, in desperate need of a new water heater? Look no further than Restano Heating, Cooling & Plumbing! We specialize in Rheem water heater installations, ensuring that you have access to the highest quality and most efficient water heating solutions on the market. With our team of experienced professionals, we will guide you through the process of selecting the perfect water heater for your home, taking into consideration your specific needs and budget. Don't suffer through cold showers or inefficient heating any longer - contact Restano Heating, Cooling & Plumbing today for your water heater replacement needs!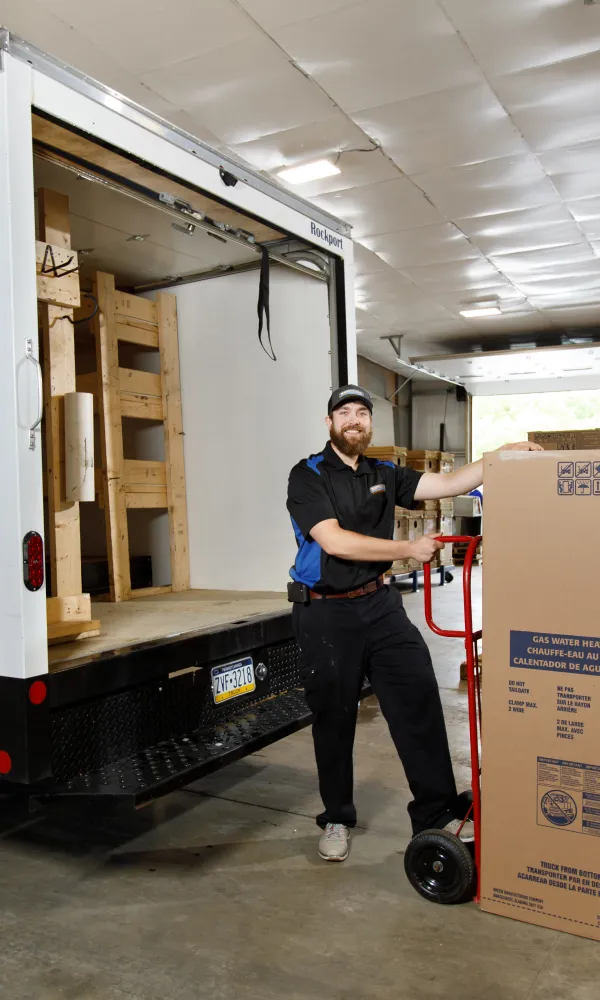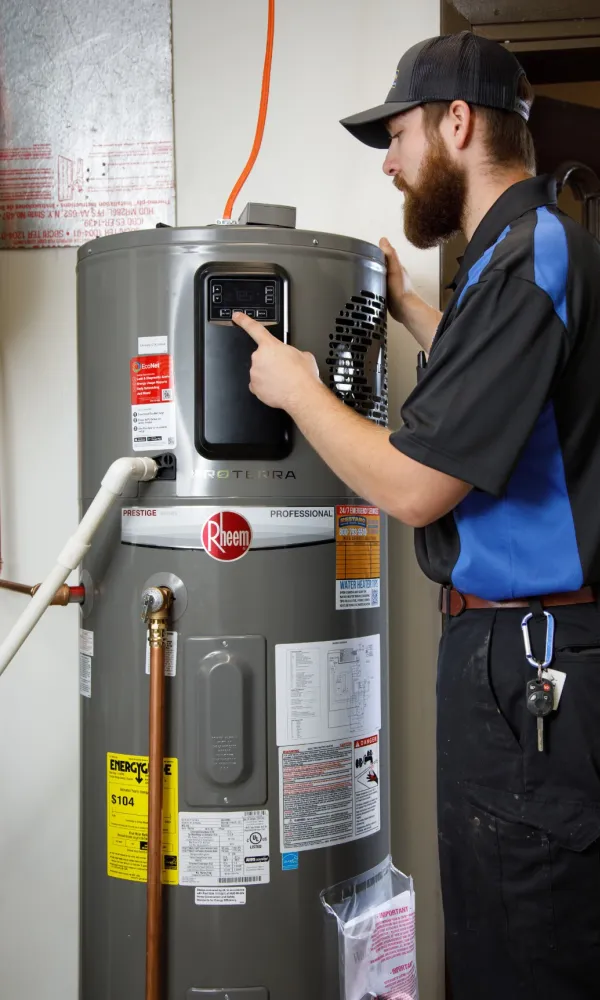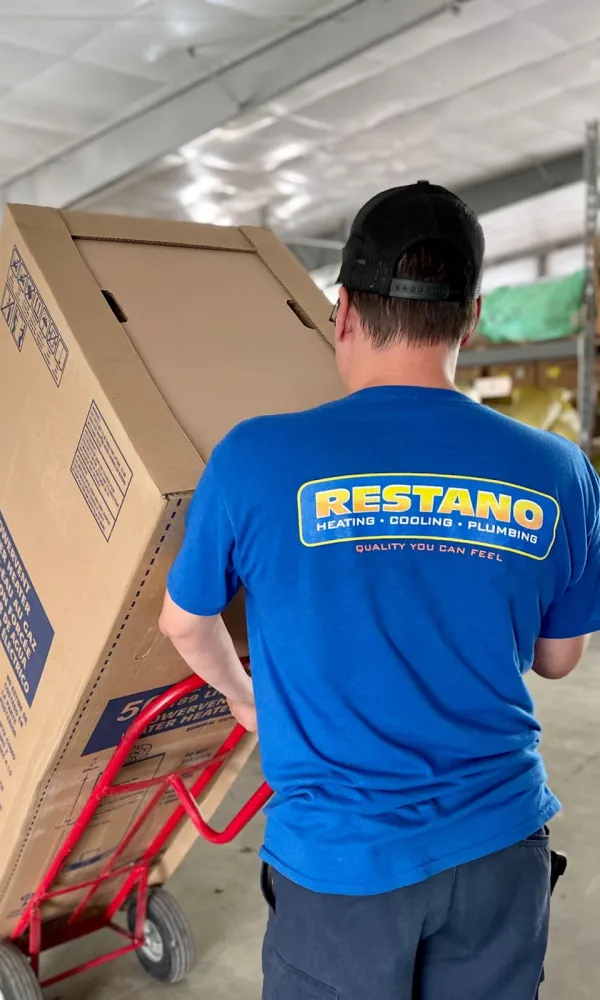 Restano Knows
About Water Heaters
At Restano Heating, Cooling & Plumbing, we offer water heater repairs and installations. If you are interested in maintaining your existing model or upgrading to a new Rheem water heater system, our team of experts is here to help you find the best solution for your home. On the other hand, if you are looking for a new water heater installation, Restano will take care of you!
Professional Installation
If you're a homeowner in Allegheny County and require an efficient and dependable water heater tank installation, Restano Plumbing is the solution you need. Our team of professionals specializes in all aspects of water heaters and promises a hassle-free installation process that ensures you have hot water on demand. Whether you want to replace an old unit or install a new water heater tank, our skilled technicians are here to help. With years of experience and commitment to client satisfaction, you can trust us to meet all your water heater needs. Enjoy the peace of mind that comes with having a reliable hot water supply in your home with Restano Plumbing.

Benefits of Hiring a Professional Plumbing Company
Expertise and Experience: Professional technicians from Restano Heating, Cooling, and Plumbing have the necessary knowledge and experience to handle water heater installations. They are trained to understand the specific requirements of different types of water heaters and can ensure proper installation to maximize performance and longevity.
Warranty Protection: By hiring a professional, you ensure that your warranty remains valid, providing you with peace of mind and potential cost savings in case of any future repairs or replacements.
Efficiency and Performance: Improper installation can lead to reduced efficiency and performance of your water heater. Professionals ensure that the unit is correctly sized and installed, optimizing its energy efficiency and ensuring consistent hot water supply. This can result in lower energy bills and a longer lifespan for your water heater.
Time and Convenience: By hiring professionals, you save yourself the hassle of dealing with the installation yourself. They will handle all the necessary steps, from removing the old unit to connecting the new one, allowing you to focus on other important tasks.
Upgrading is Easy
At Restano Heating, Cooling, and Plumbing, transitioning to hybrid heat pump technology is a breeze. Our selection of ProTerra Hybrid Electric Water Heaters offers the advantage of zero clearance requirement, making them a convenient and intelligent choice for replacing your water heater, even in compact areas such as closets.

Maximize Efficiency and Reliability with Rheem ENERGY STAR Certified Water Heater
Environmentally Friendly Efficiently: This product is 4 times more efficient than a standard electric tank, resulting in significantly reduced greenhouse gas emissions.
Constant Protection: Exclusive water leak detection system and automatic water shut-off valve are designed to safeguard your property against potential damage, giving you the ultimate peace of mind.
BUILT-IN ECONET®: Control water heater settings right from your smart mobile device.
Easy Installation: The ProTerra® is as effortless to install as a typical electric water heater.

When Should I Call a Water Heater Repair Expert?
Looking for trustworthy and effective water heater repair services in Allegheny County? Restano Heating, Cooling, and Plumbing is here to help. We recognize the significance of a well-operating water heater and have a team of experienced technicians committed to delivering exceptional repair services for all water heater models. Whether you're dealing with a minor problem or a significant malfunction, our experts are skilled at diagnosing and resolving issues promptly. If your tank is beyond repair, we can also provide recommendations for a replacement. Don't let a faulty water heater disrupt your daily routine - reach out to Restano Heating, Cooling, and Plumbing today for all your water heater repair needs!
If you have asked yourself these questions, it's time to contact a plumber!

Why is my water heater not hot enough?
Why is water leaking from the bottom of my water heater?
Why is my water heater making a weird noise?
Why does my electric water heater keep shutting off?
What caused my water heater temperature to fluctuate?
Interested in Lowering Your Energy Cost ?
Upgrade Your Home with a Rheem Water Heater Replacement in Pittsburgh, PA
Current Deals
Take Advantage of Our Discounts
Reviews
Why Our Customers Rest Easy
They are very responsive and Honest. I felt like they listened to what I had to say and were honest in their assessment of my furnace and water heater. The charges seem to be fair and I was pleased with the services I received.
Karen P. - Facebook
My hot water tank no longer was heating up and there was water under the tank. I called Restano's and they sent someone out the next day as I said I didn't feel it was an emergency. Andrew called to let me know he was on his way and he did an outstanding job of taking out my old tank and putting the new one in. He also walked through aspects of operating the new unit and was very knowledgeable and very personable. I would highly recommend Restano for this type of work!
Mary H. - Facebook
We had one of their guys at our house today to service a water heater. He was very helpful and knowledgeable. Would recommend to anyone.
Caron G. - Facebook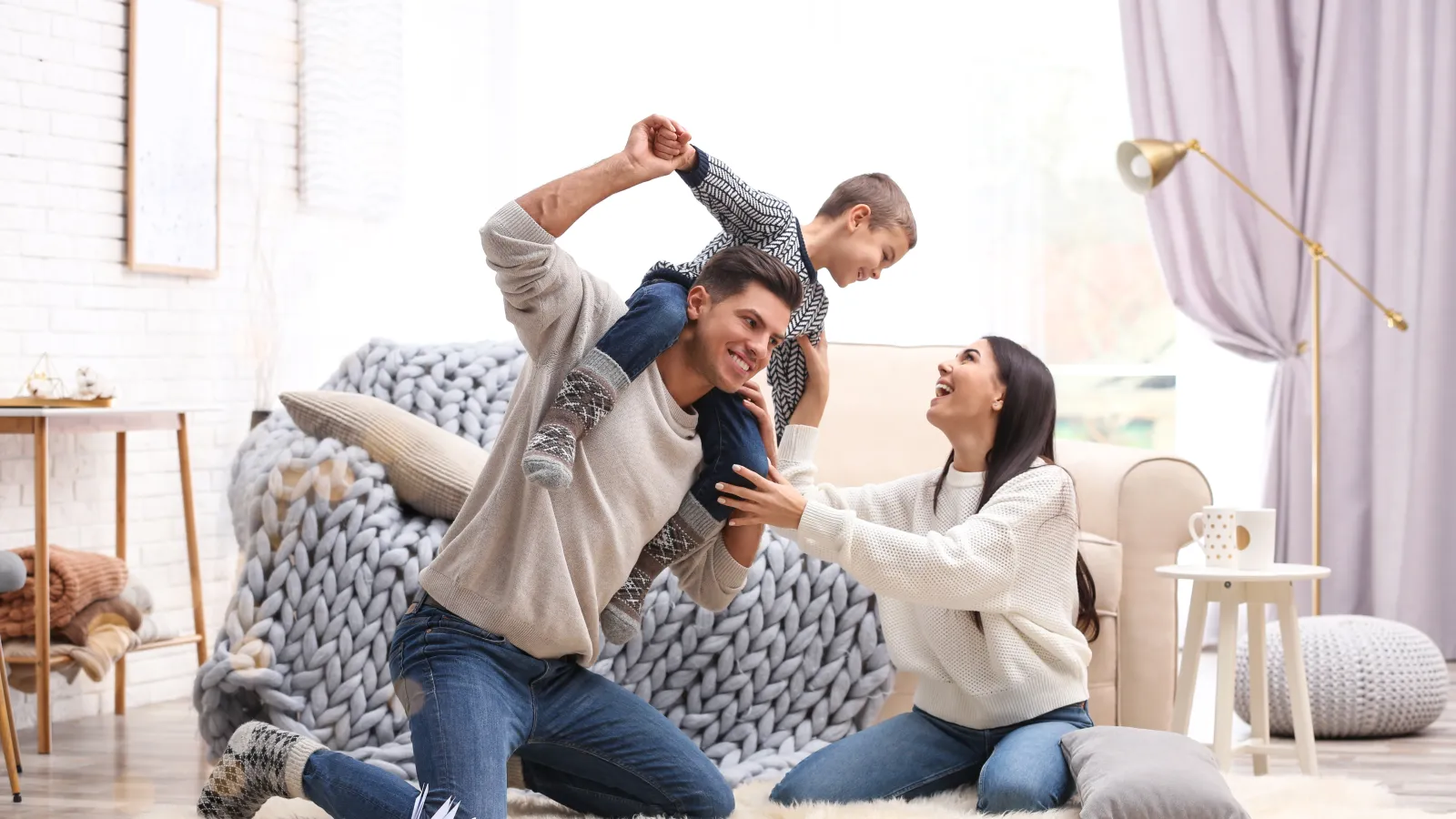 Plumbing Services & Rheem Equipment
Synchrony Financing
At Restano Heating, Cooling, and Plumbing, we understand that repairs and replacements can be a significant expense. However, we also recognize that investing in home improvements can result in long-term savings. To help you enhance your home, we offer a variety of financing options tailored to your specific equipment or service needs. If you need assistance in choosing the right financing program, please don't hesitate to contact our office, we are ready to help.
*Subject to credit approval. Minimum monthly payments are required. Please see specific financing company for details.
Restano Has Answers to Your Frequently Asked
Water Heater Replacement Questions
How often should I replace my water heater?

It is recommended to replace your water heater tank every 6-12 years. However, the lifespan can vary depending on factors such as the type of water heater, maintenance, and usage.
Some common signs that indicate the need for water heater replacement include:

Age of the water heater tank exceeds 6-12 years.
Consistent leaks or water pooling around the unit.
Inadequate hot water supply or inconsistent water temperature.
Strange noises coming from the water heater.
Rusty or discolored water.
Increased energy bills.
Can I repair my water heater tank instead of replacing it?

In some cases, minor issues can be repaired to extend the lifespan of the water heater. However, if your water heater is old, experiencing frequent problems, or has major issues, it is often more cost-effective to replace it rather than continually repairing it.
What factors should I consider when choosing a new water heater?

When choosing a new water heater, consider the following factors:

Size and capacity requirements based on your household's hot water needs.
Energy efficiency ratings to save on energy costs.
Type of water heater (e.g., tankless, storage tank) based on your preferences and available space.
Budget and long-term cost considerations.
Should I hire a professional for water heater replacement?

Yes, it is highly recommended to hire a professional Pittsburgh plumber for water heater replacement. They have the necessary knowledge, skills, and tools to safely install the new unit, ensure proper connections, and handle any potential complications.
What are the benefits of financing my water heater replacement?

Financing allows you to spread out the cost of your water heater replacement over time, making it more affordable and manageable. It also provides flexibility in choosing a high-quality water heater that suits your needs without straining your budget.